Did you know "Fifty Shades of Grey" is really about President Lincoln?
Just kidding. However, we do have over fifty options of wire that could strike your fancy.
On the surface, our wire is a simple, hard-working tool that ties your bales together.
But deep in the warehouse is an intricate world of details and specs focused on every carbon that affects the pounds of pressure per every square inch of wire. The strength and elongation is constantly tested by machines stretching and pulling. We offer "no weld" spooled wire for the smoothest compatibility with any temperamental baler. To all those who are in charge of making sure the bales stay intact know that the wire specifications (specs) are crucial for success. With our U.S. manufactured wire, you could run your balers blindfolded without worry. To protect your operation and your safety, each of our sales reps know the safe word in guaranteeing our products.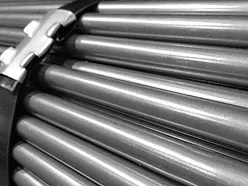 Vulcan Wire makes your job easier with our expert knowledge in any load-bearing wire. Since 1975, we have been manufacturing and distributing the following variety of beautifully finished wire:
Galvanized wire
Black-annealed wire
Baling wire
Single loop bale ties
Automatic wire
Spooled wire
Soft wire
Ceiling wire
Pin & Clip wire
Merchant wire
And Vineyard wire

To further expand on supplementing any of your heavy load securement needs, from pallets to pipes, we introduce the packaging division. Vulcan Wire boasts a selection of high quality tools, strapping/banding, both steel and plastic, stretch wrap and tape to provide your shipping and receiving department the ability to deliver how you see fit.
With a countless number of options in gauge, length, width, finish, and tensile strength, one could easily surrender and watch a movie instead. Don't lay waste, make haste and call Vulcan Wire to rest easy. Now, why did everyone want to visit the Lincoln bedroom?