Strong, Clean, Consistent SF Made Automatic Baling Wire
A new line of baling wire products is being made by the trusted Vulcan name for more quality control.
The automatic baling wire (a.k.a. box wire) for single-ram balers features :
1018 carbon, black annealed wire with true gauge specs in 10, 11, & 12 gauge to meet the necessary tensile strength & avoid breakage,
Evenly oscillated coiling for smooth feed into the baler,
Lightly oiled wire – not too wet, not too dry wire & boxes,
Wire-tied coils to prevent uncoiling/tangling,
Sturdy boxes with clear labeling,
Pallets with 36 boxes all stretch wrapped and steel strapped for secure transport.
Sturdy boxes,
Clear labeling "TOP SIDE", "STARTING
END", etc.
Easy to use perforated circles, top and
bottom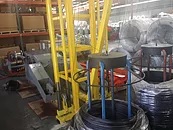 All of Vulcan's wire is inspected and tested
prior to manufacturing for accurate gauge
and specs.
All of our products are guaranteed.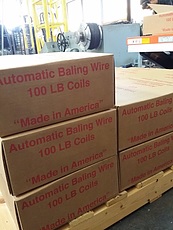 "Made in America"
36 boxes per pallet
Box Wire available in:
10, 11, & 12 GAUGE
1018 CARBON
100# coils per box
STOP COMPENSATING and GET CONSISTENCY
Avoid paying for over-gauged & under-spec wire.
End your search for where to buy wire.
All Vulcan Wire products are guaranteed.
We keep track of the sizes you need to support you with consistency.
www.vulcanwire.com
P: (510) 887-2495
Tags: bailing wire, american wire, made in america, automatic baling wire, box wire, wire manufacturing, 10 gauge wire, 11 gauge wire, 12 gauge wire, where to buy baling wire, baling wire