Stretch Wrap Sale
Wrap your pallets tight with our 80 gauge 20″x 5000′ machine grade stretch wrap.
Get the same tear/puncture resistant film that the oil companies use to wrap their pallets and ship supplies with secured confidence.
JUNE DISCOUNT: 5% OFF per roll – SALE PRICE $47.45/roll
Save $100 on a full pallet. In stock at Hayward, CA
Next day delivery to locations in California.
40 rolls per pallet.
Offer expires June 30, 2016 and while supplies last.
Hand grade 16″ and 18″ film also available for discount sale.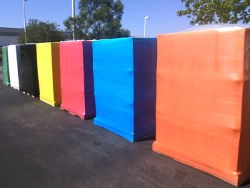 ---
Benefits of Color Film
Identify your pallets with ease.
Identify your brand with unique colors.
Protect your product from prying eyes with bad intentions.
Tamper evidence to protect your liability.
Save 5% off your order in June 2016

The latest in packaging sustainability by Plastic Packaging Perspective

Tags: pallet wrap, stretch wrap, stretch film, shrink wrap