Steel prices are on the rise going into 2017, and could continue to increase with our new presidential administration focused on mitigating China's supply. MetalMiner tracks the global production of steel, which has relentlessly increased since the end of 2015 to meet demands (see graph 1 below).
3 factors influence why steel prices will continue to increase in 2017.
The Trump administration intend to increase taxes and tariffs on imported goods.
China's increased industrial construction will cause their steel prices to rise.
The global industry as a whole is increasing demand for steel.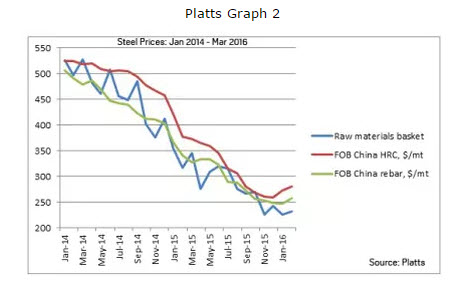 ---
According to the Platts' graph, the price per metric ton has steadily dropped since 2014 until 2016 (see graph 2 above). The U.S. has already experienced a price increase in 2016, and many sources predict more increases in the coming years.
Vulcan Inc. is aware that the wire and steel strapping industry has been affected. Maybe it is time to review your supplies and consider the other options. We offer various solutions to be cost-effective alternatives.
Possible solutions:
Determine the correct size and length baler wire
Steel versus plastic pros and cons
Take advantage of package deals
Call us to help you beat the rising costs.
510-887-2495
Tags: steel price increase, beat the price increase, The Trump administration, China's increased steel, cost-effective alternatives, steel versus plastic, correct size and length, package deals