Tools
All baler wire available from bale ties, auto tie wire, box wire, stand wire, hay baling wire, annealed or galvanized.
Steel Strapping Tools
The steel strapping tools are varied by regular-duty or heavy-duty applications. Manual tools include a tensioner, sealer, seals, cutter, and...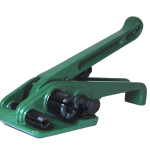 Poly Strapping Tools
The poly strapping tools are designed to be used with polypropylene or polyester strapping. The set of tools required to...
Poly Cord Strapping Tools
The poly cord strapping require less tools to secure application. The tensioners work for both stranded and woven poly cord...