In the fast-paced world of recycling, the challenges are as real as the ticking clock. You're not just moving materials—you're stewarding them through a life cycle that's as eco-friendly as it is economically viable.

One breakdown in the system, one bundle that comes apart, and you're not just facing lost time; you're facing lost trust. We understand that choosing the wrong strapping material could disrupt the harmony of your entire operation, causing delays, damages, and dwindling profits. That's why you can't afford to take the decision lightly.

The stakes? Sky-high. The solution? Not as complicated as you think—if you know what to look for.

Enter the world of industrial strapping materials: Polypropylene, Polyester, and Steel. These are not just cords that bind; they're the lifelines of your recycling operation. But which one should you invest in?

Request a quote today. Let us know the wire or packaging supplies you need, and one of our experts will contact you with price and availability.
Polypropylene Strapping
Applications in Recycling
Polypropylene strapping shines when shipping lighter loads or boxes. It is most commonly used in small warehouses shipping loads under 500 lbs. This lightweight plastic strap is also used to secure large, bulky, or heavy boxes. If your facility has a high volume of shipping lighter loads, then the low cost and large footage per roll of polypropylene are tailored to your needs. It is rarely used in the recycling industry.
Strengths
Cost-effectiveness: One of the most budget-friendly options, particularly suited for small businesses just starting out or operating on tighter financial margins.
Lightweight: Saves on shipping costs due to its lower weight and ease of handling during the strapping process.
Moisture Resistant: Unlike some other materials, polypropylene resists moisture, making it suitable for operations that deal with wet materials.
Ease of Sealing: Requires less effort and time to secure, speeding up the overall process.
Weaknesses
Tensile Strength: Polypropylene's tensile strength may be adequate for lighter loads but fails to hold up for heavy-duty or sharp-edged materials.
UV Sensitivity: This material is not as UV-resistant as others, which could be a problem for long-term outdoor storage.
Polyester Strapping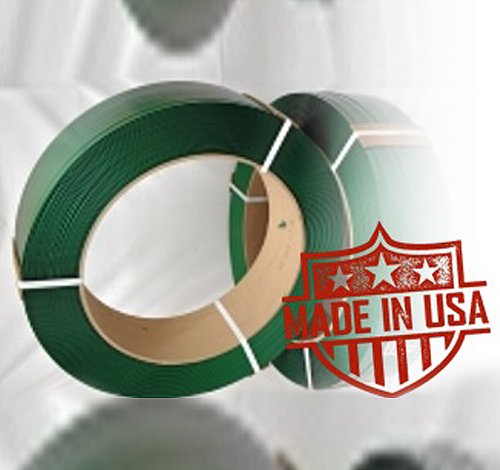 Applications in Recycling
If your facility specializes in heavier materials like metals or wood, polyester is a compelling choice. Its balance between cost and durability makes it practical for medium-scale recycling facilities. Its UV and chemical resistance are a plus for those who have to store recyclables outdoors or deal with chemically treated materials.
Comprehensive Strengths
High Tensile Strength: Offers a robust solution for medium to heavy-duty applications without the premium price tag of steel. It is used more often in industries such as lumber, brick, textiles, and rags.
UV Resistance: Holds up well against sunlight and adverse weather conditions, ideal for outdoor storage.
Elasticity: Has a bit of stretch, which can be beneficial in securing irregularly shaped or settling loads.
Chemical Resistance: Resistant to many chemicals, making it useful in environments where such exposure is likely.
Weaknesses
Cost: More expensive than polypropylene, but offers greater tensile strength in return.
Tooling Requirements: Often requires specialized sealing tools, increasing the initial setup cost.
Steel Strapping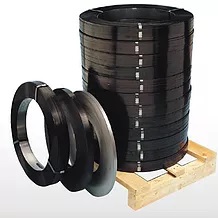 Applications in Recycling
For industrial-scale recycling operations dealing with machinery parts, metal scrap, and other incredibly heavy or sharp materials, steel strapping is the default choice. Its unparalleled strength ensures that these high-value recyclables are securely bound, reducing the risk of load failure to almost zero.
Comprehensive Strengths
Unmatched Tensile Strength: Ideal for the heaviest loads, steel strapping is in a league of its own for holding capacity.
Sharp Edge Resistance: Handles sharp or abrasive materials with ease, minimizing the risk of cuts or breaks, largely used for recycling scrap metal.
Long-term Durability: Steel straps are incredibly long-lasting, reducing the frequency of replacement.
Minimal Stretch: Virtually no elongation, ensuring that your loads remain secure during transit.
Weaknesses
Weight: The sheer strength of steel comes with significant weight, which can add to your shipping costs.
Corrosion Risk: Exposure to moisture or certain chemicals can lead to rust, requiring additional maintenance or replacement.
High Tooling Cost: Specialized tools are often required, contributing to higher initial investment.
What to Consider Before Purchasing Strapping Material
Assessing Material Weight
The weight of your recycled materials should dictate your choice of strapping. Using a strap with insufficient tensile strength could lead to breakages and compromise the safety of your operations.
Weather Resilience
If your recycling materials need to be stored outdoors, you have to consider the impact of environmental factors. Materials like polyester offer UV resistance, safeguarding your goods from weather-induced wear and tear.
Budgetary Constraints
While it's tempting to opt for the strongest material, financial realities often necessitate compromise. Balance the needs of your operation against your budget to arrive at an informed decision.
Make the Right Choice for Your Recycling Operations
Selecting the right strapping material for your recycling facility is no small feat; it's an investment in the safety, efficiency, and profitability of your operations. Whether you're dealing with light, medium, or heavy-duty recyclable materials, there's a strapping solution designed to meet your specific needs.
Polypropylene is your go-to for budget-conscious operations focused on lighter, recyclable materials.
Polyester offers a versatile, middle-of-the-road solution, balancing strength and cost. It's an excellent option for facilities dealing with a wider range of recyclable materials, from plastics to metals.
Steel, the titan of tensile strength, is the definitive answer for recycling operations that handle the heaviest, sharpest, and most challenging materials.
Get a Customized Solution from Vulcan Wire
Don't leave your strapping decisions to chance.

Every recycling operation is unique, and a one-size-fits-all approach could cost you more than you think. Vulcan Wire specializes in providing customized strapping solutions that are tailor-made for your specific needs. To begin this process, reach out for a quote.

Our experts are ready to analyze your operations, understand your challenges, and deliver a strapping solution that maximizes both safety and efficiency.

Reach out to Vulcan Wire today and ensure that your recycling facility is equipped with the optimal strapping solution. Your future self—and your bottom line—will thank you.