To use freight shipping to distribute your product, you'll likely need to pick out pallets that will serve as the platform for your shipments. Pallets are great for this purpose because they are relatively affordable, allow you to package a large number of items together in a secure bundle, and can be lifted easily by a forklift.
When you go pallet shopping, you will find that there are plenty of options available on the market today. To help, here's a pallet size chart. Let's take a look at some of the standard sizes you will encounter.
Standard Pallet Sizes
| | |
| --- | --- |
| Dimensions inches (W × L) | Dimensions mm (W × L) |
| 48 × 40 | 1219 × 1016 |
| 42 x 42 | 1067 ×1067 |
| 48 x 48 | 1219 × 1219 |
| 40 x 48 | 1016 × 1219 |
| 48 x 42 | 1219 × 1067 |
| 40 x 40 | 1016 × 1016 |
| 48 x 45 | 1219 × 1143 |
| 44 x 44 | 1118 × 1118 |
| 36 x 36 | 914 × 914 |
| 48 x 36 | 1219 × 914 |
| 35 x 45.5 | 889 × 1156 |
| 48 x 20 | 1219 × 508 |
A North American Standard
While a variety of pallet sizes do exist, the one you are most likely to encounter is the 48''x40'' pallet. This size of pallet is used in a wide range of industries, and there is a good chance that it will serve your purposes.
Specifically, one option you will see commonly is the 'GMA' pallet, where GMA stands for Grocery Manufacturers Association. As the name implies, these pallets are used frequently for grocery transport, but they can be used in many other applications. A standard GMA pallet is going to offer you the capacity to hold up to 4,600 pounds and it will be 6.5'' tall.
Just the Beginning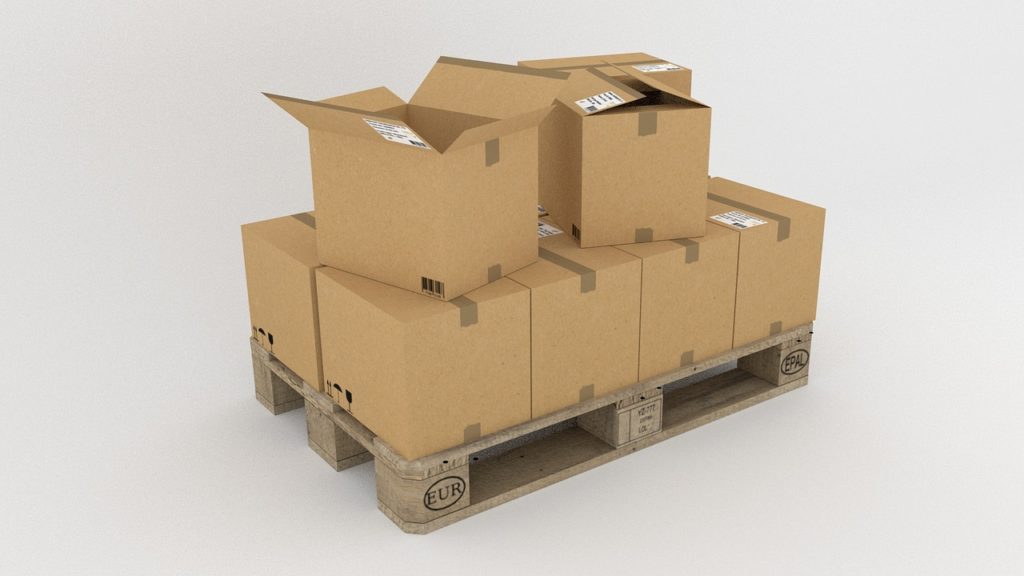 Pallets measuring 48'' x 40'' are common, but they are just the beginning of your options. If those dimensions don't quite match up with your needs, consider some of the other common pallet sizes listed below.
42'' x 42''
48'' x 48''
48'' x 42''
40'' x 40''
44'' x 44''
The key to selecting the proper pallet is to remember that you don't want to have any of your items hanging over the sides of the pallet. You want to make the most efficient use of the space you have available, so selecting a pallet that allows you to stack items out near the edge of the pallet—but not over it—is the way to go.
Two-Way & Four-Way Pallets
In addition to pallet dimensions, you will also want to consider whether you would like to purchase two-way or four-way pallets. These names refer to the way forklifts are able to access them when loading and unloading.
A two-way pallet can only be accessed by a forklift on two sides, while a four-way pallet can be lifted by a forklift from any of its four sides. Opting for a four-way pallet will provide you with maximum flexibility in terms of how your pallets are stored, which can be beneficial if you have limited warehouse space. On the other hand, two-way pallets are more affordable, so they offer savings if you don't require the flexibility that a four-way pallet provides.
Trust Vulcan For All Of Your Packaging Needs
Thank you for stopping by Vulcan Wire. We are proud to carry many of the packaging supplies you will need to easily handle your freight shipping work. If you need strapping, strapping tools, shrink wrap, or nearly anything else related to your shipping requirements, contact us for help. We look forward to serving you!