Choosing the right strap is important for securing shipments. There are a few factors to consider when making your decision, including the type of material, the weight of the shipment, and the environment in which it will be used. In this blog post, we will discuss the pros and cons of tools for steel vs plastic strapping, and provide a guide to the best tools for each material. Let's get started!

Plastic Strapping Tools
Let's start with plastic strapping. Plastic straps are commonly used for lighter packages, as they are generally easier to work with than steel straps, and have a lower cost. Since plastic straps are not as strong, it is important to select a tool that can provide even tension while tightening the strap. Here are some of the most important plastic strapping tools:

Poly Strapping Tensioner
A tensioner is an essential tool for successfully using poly strapping. By adding tension to the strap as it's wrapped around a load, this tool allows you to secure items before sealing the strap and completing the task. You should always have a poly strapping tensioner readily available if you plan on using poly strapping as part of your business model.

[Buy Poly Strapping Tensioner]

Poly Strapping Sealer
In addition to the tensioner, you'll need a sealer. The sealer clinches the ends of the strap together, ensuring that your product is properly secured. Some try to use a clamp or buckle to secure the strap. However, these methods are not recommended as they may come loose over time and become a safety hazard.

Combo Tool
This tool's primary benefit is its efficiency for high volume operations. By combining the functions of both the tensioner and sealer, it creates a faster and more consistent strapping application. Although it saves time, this savings comes with a premium price tag. Combo tools are available for steel strapping and poly strapping.
Poly Strapping Cart
If you are using a lot of plastic strapping on a regular basis, it may be worth investing in a poly strapping cart. This tool is designed to easily transport your straps and tools around the warehouse or office. It's also great for keeping everything organized and out of the way when not in use
Steel Strapping Tools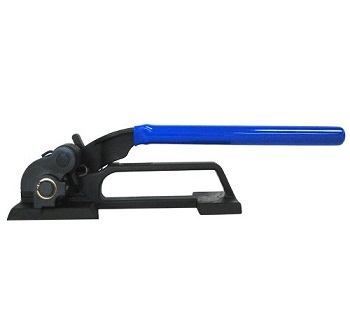 Steel straps are ideal for heavier shipments, as they provide the strength and security needed to ensure your products arrive safely. Since steel straps require more tension than plastic ones do, you'll need special tools to properly secure them. Here are some of the most important steel strapping tools:

Steel Strapping Tensioner
A steel strapping tensioner is key if you plan to use steel strapping in your company. This device essentially tightens the strap line when, for example, it's wrapped around a pallet. Just a few twists of the levels will give you the appropriate amount of tension. With some practice, you'll be able to easily operate it and see how valuable it can be for your business.

[Buy Steep Strapping Tensioner]

Steel Strapping Sealer
Proper tension is key for a strap's usefulness. Oftentimes, seals are used in conjunction with the straps to help hold everything together until the strap is intentionally cut. A steel strapping sealer is the ideal tool for compressing a seal around two ends of a strap. With a tight seal, the strap will be able to keep its tension, allowing the materials stored inside to remain secure and steady during transit or storage.

Steel Strap Cutter
You'll also want to have a steel strap cutter handy. This tool allows you to quickly and easily remove straps from packages without having to struggle with manual scissors or sharp knives. It's an essential tool for businesses that frequently use steel strapping in the warehouse.

Steel Strapping Cart
The probability of you needing to use your steel strapping tools in only one spot is slim. More than likely, you will have to reposition your tools around the warehouse or another building as the workday progresses. If you don't have the right cart, you'll end up having to lug around a bunch of tools like straps, a tensioner, cutter, sealer, and seals.

Having to stop what you're doing every few minutes to search for your steel strapping supplies is not only annoying, but it's also a productivity killer. Investing in a quality steel strapping cart will make jobs significantly easier for workers.

Conclusion on Tools for Steel vs Plastic Strapping
Understanding the differences between steel and plastic strapping is essential for any business that regularly ships or stores products. Knowing which tools are necessary to securely fasten each type of strap will make your operations more efficient and cost-effective. With the right tools, you'll keep products safe during transit and storage, regardless of what kind of straps you're using.

If you have any questions about which tools are best for your business, don't hesitate to get in touch with a strapping expert like Vulcan Wire. With our help, you can find the right tools and accessories that will make your job easier and save you time when securing products for shipment.