Imagine this: you have just finalized a large order and need to prepare the items for shipping. They must be bundled securely and protected from dirt, debris, or the prying eyes of potential thieves. This is where stretch wrap film comes into play.

But understanding the terminology and uses of this essential product can often be challenging. This blog post aims to demystify stretch wrap film for those in the know and those just getting started.

[Buy Commercial Stretch Wrap Film]
Stretch Wrap Film: The Basics
Stretch wrap film, also known as stretch film or shrink wrap (a misnomer), is a highly stretchable plastic sheet used to wrap and secure products. It is often used to bundle multiple items on pallets, keeping them safe and secure during transportation and storage.

But stretch wrap film is not a one-size-fits-all solution. At Vulcan Wire, we offer various types of stretch film to cater to different needs. Understanding these types will ensure you use the most suitable product for your needs.
Bundling Film
Bundling film is an excellent option when you need to secure light to medium weight items. With an 80-gauge to 120 gauge thickness and a 3-inch or 5 inch width, it is a handy, reliable choice to bundle materials together, such as pipes or wood moldings. This film ensures your items stay together while minimizing damage during transit.
XT Core Film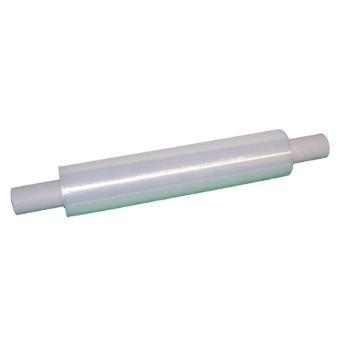 XT Core Film is a solution designed for people who prefer the film rolls with the core extended out each end to become handles. With a thickness of 80 to 120 gauge, this film offers superior strength, ensuring your palletized items stay put no matter the journey's rigors.
Hand Grade Film
Hand Grade Film, as the name implies, is applied manually and is available in various gauges to suit your specific wrapping needs. With widths from 12 to 18 inches, this is the most common film seen in warehouses that is perfect for wrapping larger bundles or odd-shaped items that require a more hands-on approach.
Machine Film
Machine Film is designed for use with pallet wrapping machines, providing a consistent and highly efficient solution for large-scale applications. It ranges from 63 to 150 gauge, and its impressive width of 20 inches and larger allows for efficient wrapping of large loads.
Color Film
The bundle film, hand grade film, and machine film are all available as clear or Color Film. Someone might opt for color film as an identifier, protection from prying eyes, or as tamper evidence. The difference in color film visibility is tint or opaque. There are many colors available to suit various needs.
Beyond Just Bundling: Stretch Film Uses
Stretch wrap film is an unsung hero in the shipping industry. However, it's not just about bundling; this material has a wide range of applications that make it essential to any business. Let's delve deeper into the many uses and benefits of stretch wrap film.
Safe and Secure Transport
When it comes to the safe transport of goods, stretch wrap film is a godsend. Its durability and strength make it perfect for securing items on a pallet, preventing them from shifting during transport and reducing the risk of damage. Whether you're using Bundling Film, XT Core Film, Hand Grade Film, or Machine Film, you can rest assured that your goods will arrive in the same condition they left your warehouse.
Protection from Environmental Factors
In addition to ensuring secure transport, stretch wrap film also provides a layer of protection against dirt, dust, and moisture. This added layer safeguards your products from environmental factors that could compromise their quality or appeal. This is particularly useful for products stored outdoors or in warehouses where they could be exposed to dirt or damp conditions.
Tamper Evident Packaging
Theft is a prevalent issue in the shipping industry. By using stretch wrap film, you not only make it harder for items to be stolen from pallets, but the wrap also serves as a tamper-evident measure. If the film has been cut or disturbed, it's immediately obvious, alerting receivers to potential theft or interference.
Efficiency and Cost-Effectiveness
Time is money, and when it comes to the warehouse, efficiency is key. Stretch wrap film is easy to apply, whether manually or by machine, saving precious time over other, more labor-intensive methods. Plus, it's a cost-effective solution, especially when dealing with large volumes of goods. And, let's not forget the savings from potentially avoiding product damages or losses during transport.
Improved Inventory Control
Stretch wrap film can also play a role in better inventory control. With the use of colored or printed stretch wrap, different types of products can be color-coded for easy identification. This simple yet effective system can streamline warehouse processes, making it easy to identify and locate different products at a glance.
Load Stability During Storage
For businesses that store palletized products in their warehouses for extended periods, stretch wrap film helps maintain load stability. It prevents items from moving or falling, reducing the risk of damage and ensuring optimal use of storage space. This is when Cast Film or Blown Film can make a difference. The Cast Film is more common because it is easier for manufacturers to make. The Blown Film is the stronger type of film with greater stretch, strength, and puncture and tear resistance. You can usually tell it's Blown Film by the sound it makes coming off the roll.
Vulcan Wire Has Your Wrapping Needs Covered
As a recognized leader in the steel and plastic cargo securement product industry, Vulcan Wire takes pride in offering high-quality stretch wrap films that cater to a wide range of needs.

The beauty of stretch wrap film lies in its versatility, but selecting the appropriate type for your needs is paramount to its effectiveness. Whether you require Bundling Film for lighter loads, XT Core Film for heavier tasks, Hand Grade Film for manual applications, or Machine Film for large-scale operations, we've got your back.

To streamline your warehouse operations with the best stretch wrap films, reach out! We are committed to excellence in our products and look forward to serving your needs. Remember, at Vulcan Wire, we are not just offering a product; we are providing a solution.